2017 Fantasy Football Rankings: Top 200 Cheat Sheet
- Updated: Sunday, July 16th
Scoring:
These rankings are based on standard scoring (one point per 25 passing yards, four points per passing touchdown, one point per 10 rushing yards, six points per rushing touchdown, one point per 10 receiving yards and six points per receiving touchdown) and are for the 2017 season only.
- More:
2017 Fantasy Football PPR Cheat Sheet
(PPR Scoring)
Cheat Sheet Players No.: 1-25 - 26-50 - 51-100 - 101-200 - List format
Here are players 51-100 in our Top-200 Fantasy Football Cheat Sheet:
51. Golden Tate, WR, Detroit Lions
Despite his slow start last year, Tate extended his streak of 90-catch seasons to three as he finished the year with 91 catches for 1,077 yards and four touchdowns. Failing to exceed 41 yards in his first five games, Tate had five-plus catches in 10 of his final 11 games and only Larry Fitzgerald and Jordy Nelson had more receptions than Tate (74) from Weeks 6 to 17.
52. Larry Fitzgerald, WR, Arizona Cardinals
Back for (at least) one more season, Fitzgerald has finished as a top-20 fantasy wide receiver with 100-plus catches and 1,000-plus yards in back-to-back seasons. Even though he will turn 34 years old prior to the 2017 season, Fitzgerald is a safe WR2/WR3 for fantasy owners.
53. Greg Olsen, TE, Carolina Panthers
Olsen scored only three touchdowns, his lowest since his rookie season (2007). As steady as it gets, Olsen has finished with three consecutive 1,000-yard seasons and played all 16 games every year except his rookie season. Scoring more fantasy points last year than all tight ends not named Travis, Olsen has finished as a top-seven fantasy tight end in five consecutive seasons.
54. Jarvis Landry, WR, Miami Dolphins
Over the past two seasons, Landry has a total of 205 receptions for 2,295 yards and eight touchdowns in addition to 22 rush attempts for 128 yards and a touchdown and has finished as a top-20 fantasy wide receiver in back-to-back seasons. That's the good news. The bad news? Starting on Oct. 9th, the Dolphins gave Jay Ajayi double-digit carries over the final 12 games. Here are Landry's per-game numbers before Oct. 9th: 7.75/93.75/0.25 on 11.25 targets per game. Here they are on or after Oct. 9th: 5.25/63.42/0.25 on 7.17 targets per game. With the Dolphins becoming a run-first team, I'd expect Landry's per-game targets to be closer to 7.17 than 11.25 going forward.
55. Jimmy Graham, TE, Seattle Seahawks
In his comeback from a torn patellar tendon, Graham had 65 catches for 923 yards and six touchdowns. All three of his 100-yard games occurred in the first half of the season with a 38/545/3 split (compared to 27/378/3 over the final eight games). One more year removed from the injury, Graham has a chance to post similar (or even better) numbers in 2017.
56. C.J. Anderson, RB, Denver Broncos
Missing the final nine games due to a meniscus tear, Anderson averaged just 4.0 yards per carry in his seven games played. With Devontae Booker disappointing in an expanded role, CJA should get the largest share of early-down work although the team signed Jamaal Charles in free agency following the NFL Draft.
57. Eddie Lacy, RB, Seattle Seahawks
Lacy signed a one-year prove-it deal with the Seahawks with
weight-based contract bonuses
. As much of a disappointment as Lacy has been over the past two seasons, he enters the season as the backfield favorite for touches.
58. Ty Montgomery, RB, Green Bay Packers
Due to injuries, Montgomery moved to running back last season and
that's the plan
for him going into 2017. Ted Thompson used three draft picks on running backs -- Jamaal Williams (134th overall), Aaron Jones (182nd) and Devante Mays (238), but Montgomery could finish as a top-24 fantasy running back in Green Bay's high-powered offense.
59. Ameer Abdullah, RB, Detroit Lions
After missing all but two games last season due to a Lisfranc injury, Abdullah goes into the 2017 season as the Lions starting running back. On a per-touch basis, Abdullah was off to a good start last year -- 18/101 (5.6 YPC) rushing and 5/57/1 (11.4 Y/R) receiving -- and there is definitely some fantasy breakout potential in 2017.
60. Christian McCaffrey, RB, Carolina Panthers
Breaking the collegiate record for all-purpose yards previously held by Barry Sanders, McCaffrey's biggest strengths are his versatility and ability to create mismatches in the passing game. More valuable in PPR formats, McCaffrey doesn't seem destined to ever become a bellcow back at only 202 pounds. That said, GM Dave Gettleman made the following comparison — "The best tackle-box runner I've ever seen is Curtis Martin out of Pitt.
Christian is right there with him
..."
61. Matt Ryan, QB, Atlanta Falcons
Coming off
an MVP-winning season
, Ryan shattered previous career highs with 4,944 passing yards and 38 touchdowns while throwing a career-low seven interceptions. With Steve Sarkisian taking over as offensive coordinator, the plan is to
not deviate
from the team's current offensive scheme.
62. Bilal Powell, RB, New York Jets
Finishing as the RB23 (RB16 in PPR) in 2016, Powell set career highs in yards from scrimmage (1,110), receptions (58) and touchdowns (five). With Matt Forte either out or limited down the stretch, Powell had 82/411/2 rushing (5.01 YPC) and 21/141/1 receiving over the final four games of the season. Even if the Jets employ a "
backfield-by-committee
," Powell should lead the backfield in touches and production in 2017.
63. Paul Perkins, RB, New York Giants
For the post-Rashad Jennings New York Giants, Perkins enters the season as the starter. The team's offensive line was essentially (and surprisingly) ignored in the draft, which is a concern for the running game as a whole, but Perkins should easily exceed his 127 rookie touches.
64. Donte Moncrief, WR, Indianapolis Colts
Missing seven games in 2016, Moncrief didn't have the breakout that many (including myself) expected as he finished with 30 catches for 307 yards and seven touchdowns. With a tantalizing combination of size (6-2, 220) and 4.4 speed, Moncrief
could
break out in his age-24 season provided he can stay healthy.
65. Tyreek Hill, WR, Kansas City Chiefs
With the ability to take it to the house on any play, Hill scored 12 touchdowns -- six receiving, three rushing and three returns -- despite getting only 61 receptions and 24 carries. The release of Jeremy Maclin this offseason should lead to a significant increase in opportunities for the explosive offensive weapon.
66. Tyler Eifert, TE, Cincinnati Bengals
The good news: 18 touchdowns. The bad news: 22 games. Unfortunately, Eifert has missed more games (26) than he has played (22) over the past three seasons, but he has been a dominant red-zone target, when healthy, with 18 touchdowns during that stretch.
67. Adrian Peterson, RB, New Orleans Saints
Even if coach Payton says that Peterson and Ingram "
will blend well
," that may be easier said than done. While Ingram may have a higher salary, it wouldn't be much of a surprise if Peterson emerged as the leader in terms of workload split (and production) in that duo. Even so, Tim Hightower averaged nearly 10 touches per game (9.7/G) last year with Ingram playing a full 16-game season for only the second time in his career.
68. Martavis Bryant, WR, Pittsburgh Steelers
Playing only 21 games in three seasons and none last year due to suspension, skepticism about his ability to stay on the field (or off suspension) would be natural. That said, the big-play receiver has averaged 17.29 Y/R and scored on one out of every 5.43 receptions in his young career. In addition, Bryant has added
10 pounds of muscle
this offseason as the 6-foot-4 wideout is now up to 225 pounds. If (a big if) he can stay clean, he could be a steal for fantasy owners.
69. Mike Gillislee, RB, New England Patriots
Gillislee capitalized on limited opportunities (110 touches) as LeSean McCoy's backup to rack up 627 yards from scrimmage and score nine touchdowns in 2017. Now in New England, Gillislee should get the majority of goal-line opportunities that went to LeGarrette Blount, who led the league with 18 rushing touchdowns last season. The only concern is the obvious one that comes with the uncertainty of how the workload will be distributed to New England's backs.
70. Frank Gore, RB, Indianapolis Colts
In his age-33 season, Gore reached the 1,000-yard milestone, but he once again posted a sub-4.0 YPC average. With the addition of Marlon Mack in the fourth round, it's likely that Gore sees less, perhaps much less, than the 301 touches that he saw in 2016.
71. Pierre Garcon, WR, San Francisco 49ers
Garcon is coming off his second career 1,000-yard season (79/1,041/3) and he could be in store for a bigger season in San Francisco with limited competition for targets. Garcon had 113 catches on 181 targets in 2013 when Kyle Shanahan was his coordinator in Washington.
72. Stefon Diggs, WR, Minnesota Vikings
Diggs had a few monster games -- back-to-back 13-catch games to start November and two separate 160-yard performances including his 13/164 outing on Nov. 13th. The Vikings should run the ball more often in 2017 than they did last year, but Diggs is clearly the team's best fantasy option at wide receiver with a WR2/3 outlook for 2017.
73. DeSean Jackson, WR, Tampa Bay Buccaneers
Signing a three-year free-agent deal this offseason with the Buccaneers, Jackson posted a 56/1,005/4 slash line with Washington last season. Likely to score more touchdowns in 2017, D-Jax may not significantly exceed his receptions or yards in 2017 with Mike Evans as the team's clear No. 1 receiver. With a 17.7 career Y/A average, the explosive wideout will likely have his share of big games with a few duds thrown in.
74. DeVante Parker, WR, Miami Dolphins
Preseason expectations were unfortunately greater than his actual production in 2016. Coaches, players and reporters have generally talked Parker up all offseason, which can be summed up by the offensive coordinator's 2017 expectations for him: "
Gigantic year
." While passing game volume is a concern, it wouldn't surprise me if Parker outscored Landry in non-PPR formats this season.
75. Willie Snead, WR, New Orleans Saints
Drew Brees spreads the ball around, but the loss of Brandin Cooks moves Snead up a notch in the pecking order for targets. Even with Cooks on the roster, Snead has a total of 141 catches and 1,879 yards in his two seasons.
76. Brandon Marshall, WR, New York Giants
Changing teams with plans to play two more seasons, Marshall will still play half of his football games at MetLife Stadium. After a 109/1,502/14 season in 2015, Marshall disappointed fantasy owners with only 59 catches for 788 yards and three touchdowns. While he gets a quarterback upgrade with Eli Manning, he's clearly the No. 2 receiver to Odell Beckham and the team has a talented young WR3 in Sterling Shepard.
77. Martellus Bennett, TE, Green Bay Packers
Going from Tom Brady to Aaron Rodgers won't hurt Bennett's fantasy value. In fact, his outlook is improved. Not that Rodgers doesn't spread the ball around, but I'd expect Bennett to see a larger share of targets in Green Bay than he saw in New England (13.27 percent) last season.
78. Kyle Rudolph, TE, Minnesota Vikings
Rudolph shattered previous career highs with 83 receptions (previous career high: 53) and 840 yards (previous career high: 495) while scoring seven touchdowns. Rudolph should come close to those numbers once again in 2017.
79. Jamison Crowder, WR, Washington Redskins
In the middle of the season, Crowder had a five-game stretch where he finished with 100-plus yards and/or scored a touchdown in all five games. In fact, all three of his 100-yard games occurred during that stretch. Given the changes to the receiving corps in free agency, Crowder should remain just as involved in the passing game as he was last season with the potential to improve on last year's overall numbers (67/847/7).
80. Delanie Walker, TE, Tennessee Titans
With more than 100 targets in each of the past three seasons, Walker has a minimum of 800 receiving yards each season with a total of 222/2,778/17 over that span. Walker will turn 33 in August and the team has invested in additional weapons for Marcus Mariota, but Walker should remain a solid and reliable TE1 in fantasy football for at least another season.
81. Marcus Mariota, QB, Tennessee Titans
Finishing as fantasy's QB12 in 2016, Mariota threw for 3,426 yards, 26 touchdowns and nine interceptions and the dual-threat quarterback ran a little more often (60/349/2). The team invested three of four top-100 picks on improving the pass-catching weapons for Mariota and recently signed Eric Decker in free agency, so 2017 should be even better — perhaps much better — for this ascending quarterback.
82. Jeremy Maclin, WR, Baltimore Ravens
Last season was a year to forget for Maclin (and his fantasy owners). Before last season, however, Maclin had 85-plus catches and 1,000-plus yards in each of his previous two seasons. Given the departure of targets from last year's squad, Maclin could bounce back in a big way with good health.
83. Russell Wilson, QB, Seattle Seahawks
Like in 2015, Wilson got off to a slow start last season and played better in the second half. In the first seven games of the season, Wilson scored at least 15 fantasy points only once -- 23.86 in Week 4 at NYJ. In the final nine games of the season, Wilson scored 20-plus fantasy points five times. Finishing as fantasy's QB11, Wilson struggled running the ball with a career-low 3.6 YPC and 259 rushing yards with just one rushing score. The Seahawks used a second-round pick on center Ethan Pocic, but I expected them to address their offensive line issues more heavily throughout the draft.
84. Danny Woodhead, RB, Baltimore Ravens
Missing the majority of the 2014 and 2016 seasons, Woodhead has played just 21 games over the past three years. That said, he has more than 75 receptions in each of his previous two full seasons and he should easily lead the Ravens backfield in receptions in 2017. And even though Woodhead is more valuable in PPR formats, he has finished as a top-24 fantasy running back (standard scoring) in each of his past three full seasons.
85. Jameis Winston, QB, Tampa Bay Buccaneers
A top-15 fantasy quarterback in each of his first two seasons, Winston has the potential to post his first top-10 fantasy season in 2017. The Buccaneers added DeSean Jackson, one of the league's best vertical threats, in free agency and O.J. Howard and Chris Godwin via the draft, all of whom should take some pressure off of Mike Evans and really open things up for the passing offense in general.
86. Kelvin Benjamin, WR, Carolina Panthers
After missing all of 2015 due to an ACL injury, Benjamin started last season strong (13/199/3 in his first two games), but he finished the year overall with less production (63/941/7) than his rookie numbers (73/1,008/9). On a positive note, Benjamin is another year removed from his ACL injury, but the
big
receiver was a "
little heavy
" this spring.
87. Eric Decker, WR, Tennessee Titans
Released by the Jets, Decker has 1,000-plus yards and double-digit touchdowns in three of his previous four seasons before missing 13 games last season. Signing a one-year deal with the Titans, he further boosts Marcus Mariota's fantasy outlook for 2017, but there are now quite a few mouths to feed in the passing game even though the Titans are a run-first team.
88. Robert Kelley, RB, Washington Redskins
When given an opportunity, Kelley made the most of it as the team's primary back on early downs. With the team using its fourth-round pick on Samaje Perine, a similar back to Kelley in terms of style, Kelley could lose his role as lead back and Matt Jones could lose his roster spot.
89. Samaje Perine, RB, Washington Redskins
A physical runner, Perine is similar in style to incumbent starter Robert Kelley. Per ESPN's John Keim, Perine "becomes an
instant challenger
to Kelley for the starting job."
90. Doug Martin, RB, Tampa Bay Buccaneers
In his first five NFL seasons, Martin has rushed for 1,400-plus yards twice -- and under 500 yards three times. Playing a full 16-game slate in both 1,400-yard seasons, Martin has played a total of 25 games in his other three seasons combined. At a minimum, Martin will miss three games to start the season as he completes serving his four-game suspension. What bodes well for Martin when he returns from suspension is that the team waited until the fifth round to add a running back (Boise State's Jeremy McNichols) and offseason reports have been positive (for whatever that's worth).
91. Derrick Henry, RB, Tennessee Titans
The (nearly) 250-pound back averaged 4.5 yards per carry with five rushing scores as a rookie. Even though Murray remains the team's lead back heading into 2017, Henry should see an expanded share of the workload in his second season. Last year's split was 74-26 in Murray's favor, but I'd expect Henry to get at least 30-35 percent of the duo's touches in 2017.
92. Jonathan Stewart, RB, Carolina Panthers
The Panthers used their top-two picks on weapons to help Cam Newton -- and likely hurt the fantasy outlook for Jonathan Stewart. Both Christian McCaffrey and Curtis Samuel are different types of backs than Stewart, but both are extremely versatile and dynamic weapons that should make significant contributions early. Now 30 years old, Stewart has missed at least three games in five consecutive seasons and he has averaged less than 4.0 yards per carry in three of those five seasons including last year (3.8 YPC).
93. Cam Newton, QB, Carolina Panthers
Rotator cuff surgery sidelined him this offseason, but it appears that he'll ready for the start of training camp. After being named league MVP in 2015, Newton completed 52.9 percent of his pass attempts and averaged only 6.9 yards per attempt and 4.0 yards per carry, all of which set career lows. The QB17 in fantasy last year, Newton finished as a top-12 weekly quarterback in only five of 15 games -- compared to 10 of 16 games in 2015. That said, the team used their first two picks on Christian McCaffrey and Curtis Samuel to potentially make things easier for Newton.
94. Corey Coleman, WR, Cleveland Browns
Injuries kept Coleman from making the impact that fantasy owners had hoped to get from the first receiver selected in the 2016 NFL Draft. Meanwhile, Hue Jackson
hopes
to have Coleman (hamstring) back when training camp starts. If Coleman can (get and) stay healthy, there's some breakout potential in his sophomore campaign.
95. Kareem Hunt, RB, Kansas City Chiefs
Even if Spencer Ware continues to lead the backfield in touches, Hunt should be highly involved in the offensive game plan early on. Extremely productive at Toledo with nearly 5,000 career rushing yards, Hunt has a chance to meet or outperform his current average draft position although his price has continued to creep up steadily since June 1st: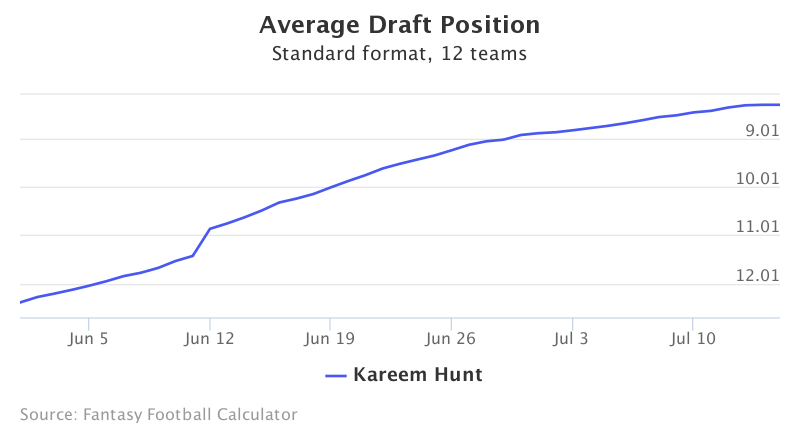 96. Cameron Meredith, WR, Chicago Bears
A
thumb injury
will sideline Meredith for the rest of the offseason program, but he is expected to be ready for the start of training camp. When given an opportunity, Meredith had several productive outings including four 100-yard games. With Alshon Jeffery now in Philadelphia and a spotty durability track record of former first-rounder Kevin White, Meredith is likely to lead the Bears receiving corps in targets and fantasy production.
97. Quincy Enunwa, WR, New York Jets
In a breakout season, Enunwa had 58 catches for 857 yards and four touchdowns in 2016 and finished as a top-45 fantasy receiver in both standard- and PPR-scoring formats. By default, Enunwa moves into the team's No. 1 receiver role with the team cutting Marshall and Decker this offseason. The quarterback situation is a mess, but the Jets should be trailing (and therefore throwing) often.
98. Theo Riddick, RB, Detroit Lions
One of the league's most dynamic receiving backs, Riddick has averaged 5.12 receptions for 41.08 yards and 0.35 touchdowns per game over the past two years. Missing the final six games and having double wrist surgery this offseason, Riddick will remain at least a vital part of the team's passing offense going forward and a solid RB2 in PPR formats.
99. Mike Wallace, WR, Baltimore Ravens
Fantasy owners don't get excited when they draft 60 Minutes, but perhaps they should. Even though Wallace had his first 1,000-yard season since 2011, he has finished as a top-30 fantasy wide receiver (standard scoring) in seven of eight seasons since entering the league in 2009.
100. C.J. Prosise, RB, Seattle Seahawks
Injuries limited his opportunities as Prosise missed 10 games, but he was highly productive and efficient -- 5.7 YPC and 12.2 Y/R -- when given an opportunity. A converted wide receiver back in his days in South Bend, Prosise is even better in PPR formats, but the second-year back should have a consistent role in the offense as the third-down back, at a minimum, provided he can stay healthy.
Cheat Sheet Players No.: 1-25 - 26-50 - 51-100 - 101-200 - List format
Our positional fantasy football rankings:
More of our content:
Keep track of our site's updates: (1)
follow us on Twitter
, (2)
LIKE us on Facebook
and/or (3)
add us to your Google+ circle