2017 Fantasy Football Rankings: Fantasy Football RB Rankings
- Updated: Sunday, July 16th
Scoring: These rankings are based on standard-scoring formats -- one point per 10 rushing yards, six points per rushing touchdown plus one point per 10 receiving yards and six points per receiving touchdown.
Here are running backs 26-80 in our rankings:
26. Bilal Powell, New York Jets
Finishing as the RB23 (RB16 in PPR) in 2016, Powell set career highs in yards from scrimmage (1,110), receptions (58) and touchdowns (five). With Matt Forte either out or limited down the stretch, Powell had 82/411/2 rushing (5.01 YPC) and 21/141/1 receiving over the final four games of the season. Even if the Jets employ a "
backfield-by-committee
," Powell should lead the backfield in touches and production in 2017.
27. Paul Perkins, New York Giants
For the post-Rashad Jennings New York Giants, Perkins enters the season as the starter. The team's offensive line was essentially (and surprisingly) ignored in the draft, which is a concern for the running game as a whole, but Perkins should easily exceed his 127 rookie touches.
28. Adrian Peterson, New Orleans Saints
Even if coach Payton says that Peterson and Ingram "
will blend well
," that may be easier said than done. While Ingram may have a higher salary, it wouldn't be much of a surprise if Peterson emerged as the leader in terms of workload split (and production) in that duo. Even so, Tim Hightower averaged nearly 10 touches per game (9.7/G) last year with Ingram playing a full 16-game season for only the second time in his career.
29. Mike Gillislee, New England Patriots
Gillislee capitalized on limited opportunities (110 touches) as LeSean McCoy's backup to rack up 627 yards from scrimmage and score nine touchdowns in 2017. Now in New England, Gillislee should get the majority of goal-line opportunities that went to LeGarrette Blount, who led the league with 18 rushing touchdowns last season. The only concern is the obvious one that comes with the uncertainty of how the workload will be distributed to New England's backs.
30. Frank Gore, Indianapolis Colts
In his age-33 season, Gore reached the 1,000-yard milestone, but he once again posted a sub-4.0 YPC average. With the addition of Marlon Mack in the fourth round, it's likely that Gore sees less, perhaps much less, than the 301 touches that he saw in 2016.
31. Danny Woodhead, Baltimore Ravens
Missing the majority of the 2014 and 2016 seasons, Woodhead has played just 21 games over the past three years. That said, he has more than 75 receptions in each of his previous two full seasons and he should easily lead the Ravens backfield in receptions in 2017. And even though Woodhead is more valuable in PPR formats, he has finished as a top-24 fantasy running back (standard scoring) in each of his past three full seasons.
32. Robert Kelley, Washington Redskins
When given an opportunity, Kelley made the most of it as the team's primary back on early downs. With the team using its fourth-round pick on Samaje Perine, a similar back to Kelley in terms of style, Kelley could lose his role as lead back and Matt Jones could lose his roster spot.
33. Samaje Perine, Washington Redskins
A physical runner, Perine is similar in style to incumbent starter Robert Kelley. Per ESPN's John Keim, Perine "becomes an
instant challenger
to Kelley for the starting job."
34. Doug Martin, Tampa Bay Buccaneers
In his first five NFL seasons, Martin has rushed for 1,400-plus yards twice -- and under 500 yards three times. Playing a full 16-game slate in both 1,400-yard seasons, Martin has played a total of 25 games in his other three seasons combined. At a minimum, Martin will miss three games to start the season as he completes serving his four-game suspension. What bodes well for Martin when he returns from suspension is that the team waited until the fifth round to add a running back (Boise State's Jeremy McNichols) and offseason reports have been positive (for whatever that's worth).
35. Derrick Henry, Tennessee Titans
The (nearly) 250-pound back averaged 4.5 yards per carry with five rushing scores as a rookie. Even though Murray remains the team's lead back heading into 2017, Henry should see an expanded share of the workload in his second season. Last year's split was 74-26 in Murray's favor, but I'd expect Henry to get at least 30-35 percent of the duo's touches in 2017.
36. Jonathan Stewart, Carolina Panthers
The Panthers used their top-two picks on weapons to help Cam Newton -- and likely hurt the fantasy outlook for Jonathan Stewart. Both Christian McCaffrey and Curtis Samuel are different types of backs than Stewart, but both are extremely versatile and dynamic weapons that should make significant contributions early. Now 30 years old, Stewart has missed at least three games in five consecutive seasons and he has averaged less than 4.0 yards per carry in three of those five seasons including last year (3.8 YPC).
37. Kareem Hunt, Kansas City Chiefs
Even if Spencer Ware continues to lead the backfield in touches, Hunt should be highly involved in the offensive game plan early on. Extremely productive at Toledo with nearly 5,000 career rushing yards, Hunt has a chance to meet or outperform his current average draft position although his price has continued to creep up steadily since June 1st: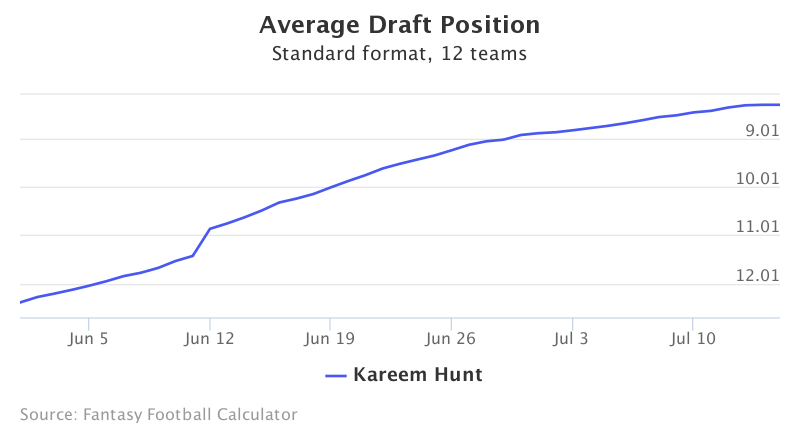 38. Theo Riddick, Detroit Lions
One of the league's most dynamic receiving backs, Riddick has averaged 5.12 receptions for 41.08 yards and 0.35 touchdowns per game over the past two years. Missing the final six games and having double wrist surgery this offseason, Riddick will remain at least a vital part of the team's passing offense going forward and a solid RB2 in PPR formats.
39. C.J. Prosise, Seattle Seahawks
Injuries limited his opportunities as Prosise missed 10 games, but he was highly productive and efficient -- 5.7 YPC and 12.2 Y/R -- when given an opportunity. A converted wide receiver back in his days in South Bend, Prosise is even better in PPR formats, but the second-year back should have a consistent role in the offense as the third-down back, at a minimum, provided he can stay healthy.
40. LeGarrette Blount, Philadelphia Eagles
Last season, Blount finished with 299 carries for 1,161 yards and 18 touchdowns. One thing is certain: Blount's numbers will be markedly different in 2017. Even though Ryan Mathews will likely be released at some point, Blount should see in the neighborhood of 150-170 carries in 2017.
41. Jeremy Hill, Cincinnati Bengals
After an impressive rookie season (1,124 rushing yards and 5.1 YPC), Hill has failed to reach the 1,000-yard mark and averaged under 4.0 yards per carry in back-to-back seasons. Not only did the Bengals draft Mixon, the team lost two of its best offensive linemen in free agency. Even if not to begin the season, I expect Mixon to out-touch Hill as the season progresses (as noted earlier).
42. Thomas Rawls, Seattle Seahawks
There is plenty of uncertainty around the role for Rawls going into the season. With the addition of Eddie Lacy, it appears that Rawls will be his backup, but C.J. Prosise should handle the majority of third-down work as well.
43. Matt Forte, New York Jets
Setting or tying career lows in rushing YPG (58.1) and receiving YPG (18.8), Forte averaged 3.7 YPC (second-lowest in his nine-year career) in his first season with the Jets. With the team parting ways with older veterans (Brandon Marshall, Eric Decker, etc.), it appears that Forte won't be a
victim
of the team's youth movement. That said, it's fair to question how much his 2017 role will be reduced in 2016 as Powell should see his offensive role expand.
44. James White, New England Patriots
The Patriots gave White a three-year extension this offseason and he had a career-high 60 receptions in 2016 in addition to 14 receptions in their Super Bowl come-from-behind victory over the Falcons. It wouldn't surprise me if White had more receptions than carries (like last season), which makes him more valuable in PPR formats.
45. Jonathan Williams, Buffalo Bills
On limited touches (110 in 15 games), Mike Gillislee scored a total of nine touchdowns and the 27th-most fantasy points (39th in PPR) among running backs last season. With Gillislee now in New England, the 223-pound second-year back is expected to move into the role vacated by Gillislee and he has weekly flex upside even if McCoy stays healthy for a full season. That said, fullback Mike Tolbert could take some of those opportunities away from Williams.
46. Darren Sproles, Philadelphia Eagles
Entering what is expected to be his final season, the 34-year-old running back had 865 yards from scrimmage and 52 receptions last season for the Eagles to finish as fantasy's RB30 in non-PPR and RB24 in PPR formats. Another season of 800 YFS and 50 catches should be within reach for Sproles.
47. Kenneth Dixon, Baltimore Ravens
Missing four games as a rookie (knee), Dixon will miss four games to start his second season (PED suspension). While I expect Dixon to lead the backfield in touches from Weeks 5 to 17, his suspension and the addition of Woodhead limits his upside for a true breakout in 2017.
48. Jamaal Charles, Denver Broncos
Due to knee injuries, Charles has missed three times as many games (24) as he has played (eight) over the past two seasons. Signing with the division-rival Broncos, Charles gives the team a different element if he can stay healthy. Ranking fourth all-time in yards per carry behind Michael Vick (7.0), Randall Cunningham (6.4) and Marion Motley (5.7), the 30-year-old Charles has averaged 5.5 yards per carry over his career.
49. Jamaal Williams, Green Bay Packers
Depending on the evolution of his 2017 role, Williams could be set up to vastly exceed expectations. Ty Montgomery goes into the season as the "starter," but the Packers used three draft picks on running backs in this year's draft with Williams being selected first (fourth round) among the trio.
50. Dion Lewis, New England Patriots
One thing's clear: I have no idea which Patriots running back will have the most productive fantasy outing in any given week. As unclear as it was in previous seasons, it seems less clear in 2017. The Patriots have four running backs that I would expect to have multiple top-24 weekly performances in 2017, but guessing when those will occur will be just that ... a guess.
Here are the best of the rest:
51. Jacquizz Rodgers,
Tampa Bay Buccaneers
52. Terrance West,
Baltimore Ravens
53. Duke Johnson,
Cleveland Browns
54. Robert Turbin,
Indianapolis Colts
55. Joe Williams,
San Francisco 49ers
56. Latavius Murray,
Minnesota Vikings
57. Devontae Booker,
Denver Broncos
58. Jerick McKinnon,
Minnesota Vikings
59. Giovani Bernard,
Cincinnati Bengals
60. Rex Burkhead,
New England Patriots
61. Ryan Mathews,
Philadelphia Eagles
62. DeAndre Washington,
Oakland Raiders
63. T.J. Yeldon,
Jacksonville Jaguars
64. Marlon Mack,
Indianapolis Colts
65. Chris Ivory,
Jacksonville Jaguars
66. Charles Sims,
Tampa Bay Buccaneers
67. Chris Thompson,
Washington Redskins
68. Zach Zenner,
Detroit Lions
69. Wayne Gallman,
New York Giants
70. Alvin Kamara,
New Orleans Saints
71. Darren McFadden,
Dallas Cowboys
72. Wendell Smallwood,
Philadelphia Eagles
73. D'Onta Foreman,
Houston Texans
74. James Conner,
Pittsburgh Steelers
75. Tim Hightower,
San Francisco 49ers
76. Jeremy McNichols,
Tampa Bay Buccaneers
77. Benny Cunningham,
Chicago Bears
78. Shane Vereen,
New York Giants
79. Donnel Pumphrey,
Philadelphia Eagles
80. Charcandrick West,
Kansas City Chiefs
- Go back to
Fantasy Running Backs 1-25
More Fantasy Football Rankings:
More of our fantasy football resources:
More of our content:
Good luck in your 2017 fantasy football league(s)!