CeeDee Lamb 2021 Fantasy Football Profile
BY KEVIN HANSON (@EDSFootball)
Updated: Monday, March 15th
Heading into the 2020 NFL Draft, few mock drafts, if any, projected the Dallas Cowboys would select Oklahoma Sooners wide receiver CeeDee Lamb.
There were two reasons for this:
Few mocks expected him to still be on the board when the Cowboys picked (17th overall)
Wide receiver ranked low amongst the team's priorities of needs
In fact, the Cowboys had a pair of young 1,100-yard receivers -- Amari Cooper (1,189) and Michael Gallup (1,107) -- in 2019. That said, Randall Cobb (828) and tight end Jason Witten (529) both departed in free agency last offseason.
Providing the Cowboys with an upgrade over Cobb, no rookie receiver produced more from the slot than Lamb.
Minnesota's Justin Jefferson had a historic rookie season (88/1400/7) and other rookies like Cincinnati's Tee Higgins and Pittsburgh's Chase Claypool made significant impacts. That said, Jefferson was the only rookie to finish with more receiving yards than Lamb (935).
Lamb scored the 25th-most fantasy points among WRs (half-PPR scoring) as he finished with 74 catches for 935 yards and five touchdowns. If it weren't for the season-ending injury to quarterback Dak Prescott, however, Lamb's numbers would have likely been much better.
In the five games in which Prescott played, Lamb had a minimum of 59 yards every week, both of his 100-yard games and was fantasy's WR11. Teammate Amari Cooper was the WR12 during that same span.
Rank
Receiver
Rec.
Rec. Yards
Rec. TD
Fantasy Points
1
Adam Thielen
29
364
6
90
2
D.K. Metcalf
22
496
5
88.6
3
Calvin Ridley
29
485
4
87.6
4
DeAndre Hopkins
45
528
2
87.3
5
Tyreek Hill
22
364
4
82.3
6
Stefon Diggs
36
509
2
80.9
7
Robby Anderson
36
489
1
75.2
8
Tyler Lockett
30
342
4
73.2
9
Odell Beckham Jr.
21
294
3
71.82
10
Allen Robinson
35
421
2
71.5
11
CeeDee Lamb
29
433
2
71.1
12
Amari Cooper
39
424
1
69.7
WR fantasy scoring from Weeks 1-5.
If we extrapolated Lamb's five-game production to begin the season, he was on a 16-game pace of 92.8/1385.6/6.4. Of course, even if Prescott weren't injured, there's no guarantee that he would have maintained his torrid pace to start the year.
The point, however, is that those numbers would have been eerily close to Jefferson's rookie numbers (88/1400/7). With Prescott, Lamb's numbers over the first five weeks were better than Jefferson's (19/371/1) during the same span.
While there was a noticeable split between his numbers with and without Prescott, Lamb's Week 6-17 numbers weren't terrible -- 45/502/3 (WR31) -- especially considering he was a rookie receiver with an atypical offseason.
Given how unusual last offseason was, Lamb (and other rookies) should benefit plenty from what will likely be a more normal July-August in 2021. If Prescott is able to stay healthy, Lamb could be poised for a massive season.
While Lamb may have been the 1(b) to Cooper's 1(a) last season, it wouldn't surprise me if the uber-talented second-year receiver emerges as the team's top producer. As I wrote in my final big board on SI last year, "Lamb has exceptional ball skills with a special ability to contort his body and adjust to the ball in the air."
Exhibit A from Lamb's rookie season:
CeeDee Lamb Fantasy Football ADP
Based on scoring format, here are the current Fantasy Football ADPs for CeeDee Lamb:
Below is a chart of CeeDee Lamb' half-PPR ADP over the past month: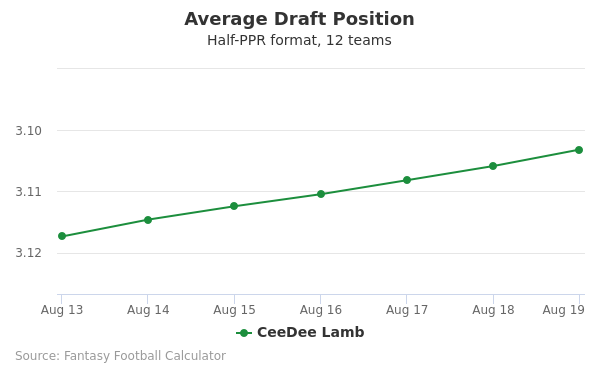 [Source: ADP from Fantasy Football Calculator.]
Fantasy Football Strength of Schedule (SOS)
Based on the cumulative fantasy points allowed in 2020 by their opponents this season, here are the ranks for CeeDee Lamb and the Cowboys wide receivers rank in 2021 strength of schedule:
Note: The Fantasy SOS noted above are based on a 17-game schedule, which the NFL is expected to implement in 2021.
CeeDee Lamb Full-Season Projections
Here are our full-season projections for Lamb:
| | | | | | | |
| --- | --- | --- | --- | --- | --- | --- |
| 86.2 | 1217.1 | 6.5 | 5.5 | 35.8 | 0.01 | 207.45 |
- Dallas Cowboys 2021 Fantasy Football Projections
Bottom line
Relative value: Fairly Valued
Based on Lamb's talent and the potency of the team's offense, the arrow is clearly pointing up for Lamb. Similar to what D.K. Metcalf did in his second season, it's certainly within the range of potential outcomes for Lamb to make a massive leap into the top tier of wide receivers in 2021. Some of that upside is already baked into his current ADP, but I have a feeling that Lamb is going to be one of those players that I continue to bump up in my projections and rankings throughout the offseason.
More Dallas Cowboys content:
Also, check out more of our content:
Keep track of our site's updates: (1) follow us on Twitter, (2) like us on Facebook and/or (3) subscribe to our newsletter.